Back in Italy
Thursday morning: after breakfast I'm packing my bags and preparing for the trip back to Italy. I manage to attend to part of the talks during the rest of the morning. Then after lunch I'm leaving.
The first flight starts quite well, but over the baltic sea and germany the very strong wind makes the airplane shake and groan... We arrive at Milan Malpensa with half an hour delay because of the bad weather. I collect my luggage as fast as I can and hurry to the check-in in order to get on the plane to Perugia, only to discover that the flight has been cancelled!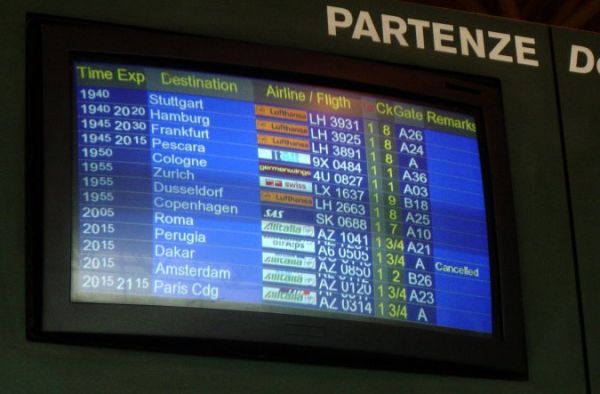 Now, that was the "italian experience" I was waiting for.
All the passengers from the cancelled flights are rerouted to Rome (on an already delayed flight). While we wait, the flight's departure time is delayed again to 10:30 (some people were waiting since 7 o'clock and start getting really upset, shouting and yelling at the poor desk girl at the gate...). I and other 30 people headed to Perugia arrive at Rome at 11. Some of the baggage has been lost on the way (what else could we expect? I have all my stuff fortunately) and we get delayed further while the unlucky ones fill their forms. At 1:30 a bus takes us from the airport of Rome to Perugia. At 5 o'clock I'm home again...