Today I'm starting another new exciting pet-project of mine!

I'm planning to buy some DMX hardware (DMX is a simple protocol to control lighting shows and such) and build a custom piece of software, that I could then use on live shows to give life to the gig with rhythmic lighting, effects and whatnot.
The most immediate use for it would by on gigs of my brother's band, Spasmodicamente. That would be totally awesome.

So, for starts, I went looking for a cheap DMX controller that can be used interactively by a computer. There are several solutions by different companies, but the most convincing seemed to be those made by Nicolaudie-Sunlite. Different models exist, some of them are pretty expensive but they also include much stuff I don't really need. Fortunately, Sunlite also sells simple kits that come with a software development kit to program the thing.
Unboxing
Two days ago I ordered one SIUDI-6C (the cheapest model, since I wasn't completely sure it was going to work). It cost 100 € plus 25 € for shipping and it was one of the quickest deliveries I ever witnessed in my life! This morning at 10 o'clock it arrived safely in my hands (that's roughly a single day from France to central Italy). Thank you Sunlite!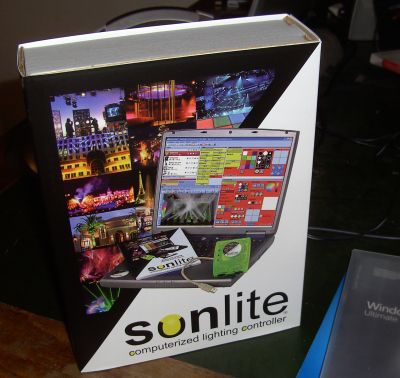 The nice cardboard box is definitely overkill for the three items contained in it: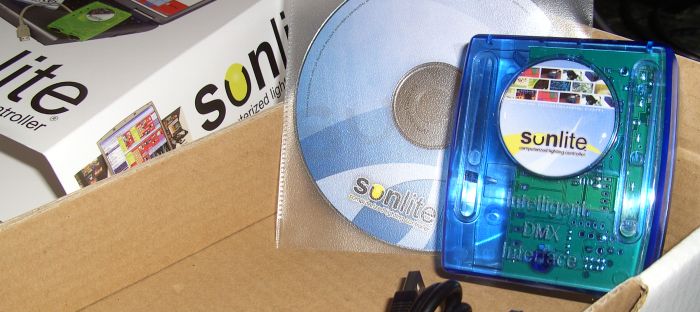 The little blue plastic box is the SIUDI-6C DMX controller. The disc contains a collection of software (most of which I won't use anyway), the SDK and some documentation (it's not MSDN, but it will do). A standard printer usb cable is also in the box.
Installing
As soon as I plugged the controller in the usb slot, Vista went searching for drivers on Windows Update for almost ten minutes. Without success.

Anyway, all drivers are on the CD (and on the website as well).
Just make sure you don't install the drivers in the /drivers folder, but directly install the SDK in /siudi/siudi5-6_developerkit.exe. The first set of drivers cannot be installed (on Vista) because of some error in the INF file. After some hacking around in the file I managed to get them installed (and thought all was well) but the example programs did not work: "no DMX interface installed". Duh.
Then I exumed my old XP disc, installed it on the former Linux partition (won't need that for this project, that's for sure) and tried again: same story. Those drivers simply do not work. I was almost about to send a mail to Sunlite, but I tried the (slighty smaller) driver pack included with the SDK and that did the trick!


Now the little fellow is blinking like mad and responds to some basic DMX command.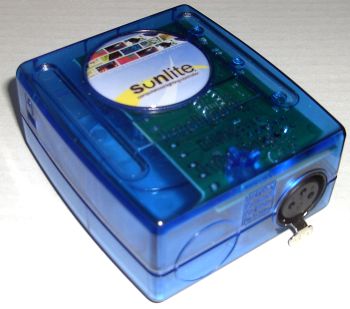 So, now I'm ready to do some nice stuff with my new gadget! I ordered some other hardware that can be controlled via DMX today (a DMX dimmer), therefore I will probably have something working by the end of the next week.