OnTopReplica
I remember that since Windows 95 or so, I always wanted to find a way to watch a movie on my PC while coding, writing or doing some other work (keeping it "always on top"). Finally, with Vista and its "DWM Desktop Composition" I was able to create a simple application that does simply that: you can clone whatever window is on your screen and watch it in a small thumbnail that always keeps on top of all other windows (even if it hasn't mouse focus). So you can watch a movie while coding, like this: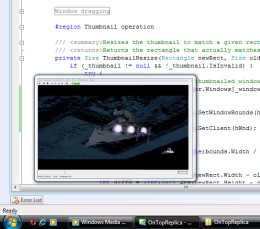 In the picture above, VLC is playing a movie and is replicated by On Top Replica, which will stay on top even if Visual Studio takes the focus and actually covers up the real media player.
Of course you can use it for several other things as well: like keeping track of a large download or a slow installation (like Visual Studio...) while doing something useful, peeking at the current track in your media player, keeping a document on top as reference, or else...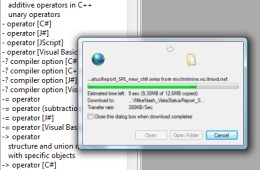 How it works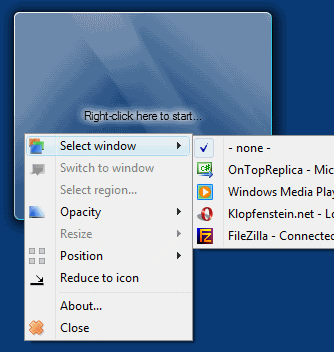 Selecting the window to be thumbnailed.
After installation, you can launch the application through the Start Menu (the link is called "OnTopReplica"). By right-clicking on the empty window you'll get a list of windows you can clone, an opacity setting, the option to select a subregion of the original window and finally the option to reduce the application to the taskbar.
Cloning a window: simply select the window you wish to clone from the list and you're done! You will be able to move and resize (the replicated window will always try to match the original window's aspect ratio) the window, or select another window to clone in any moment.
Select region: clicking on "Select region" will open a small side bar, allowing you to select a subregion of the original window to clone (this is particularly useful in order to trim away unnecessary GUI elements from a video player). To do so, simply click on the thumbnail and drag the region. As soon as you release the left mouse button the region is updated on the panel. You may store regions you find useful for future use as well (just click on "Save").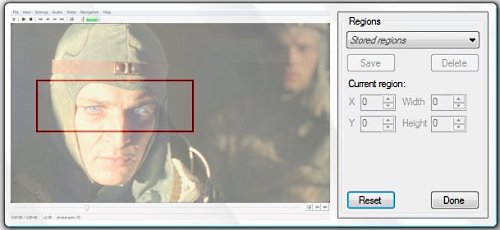 When done, click on "Done" on the bottom right and the panel will disappear.
The opacity and resize options allow you to set the window's transparency and its size (based on preset ratios of the source window). Double-clicking on the window is a shortcut for switching to "fullscreen mode". You can also disable the "glass effect" in the opacity menu (this may also improve performance).
Note: remember that you should not minimize the window that is being cloned by OnTopReplica, because otherwise Windows will stop refreshing the thumbnail (that is, because the original window itself will not be repainted anymore). Keep the window open in the background and you'll be able to watch a movie while (pretending to be) working.

Click-through fullscreen mode: this is a new feature in OnTopReplica 2.1 and allows you to switch a semi-opaque OnTopReplica session to fullscreen mode while still being able to click on windows underneath. The OnTopReplica window is thus acting like some king of overlay. To enable it, simply ensure that - before switching to fullscreen - the window is not completely opaque and that the "click-through" option is enabled in the "resize" menu. To get back from this mode, simply double-click on the OnTopReplica tray icon.
This mode can be very nice to watch movies in their full resolution instead of in a tiny window, but of course can also lead to pretty confusing visuals if you try to read and watch at the same time...
Click forwarding (added in OnTopReplica 2.5): this mode will try to forward all clicks done on the OnTopReplica thumbnail to the original window. This should allow you to have basic interactions with the cloned window, without having to activate it or switch it to foreground. At the moment, not all clicks are correctly forwarded (for instance, scrollbars generally don't work) but it should work fine in most cases. Both single and double left clicks are supported.
Chrome-less (added in OnTopReplica 2.6): will remove the standard window borders and leave only the clone of your window. Should be much less distracting for watching videos.
Languages
Since version 2.5, OnTopReplica has finally been internationalized and, right now, features three languages: english, italian and czech. If you'd like to translate OnTopReplica to another language, please send me an e-mail.

Download
You can download the On Top Replica installer. Installation is as noninvasive as possible: it doesn't require user privileges elevation (UAC) and automatically extracts to a local user folder.
You need Windows Vista Home Premium or better (with activated "Aero") and the .NET Framework 2.0.
If you have trouble installing or launching the application, try the executable file without installer. Please report bugs via mail or via comment (below).
Source Code
On Top Replica has been released under an Open Source licence. Check out the page on CodePlex.com to get the complete source code or the WindowsFormsAero library the application depends on.
If you have suggestions, comments or ideas for future versions, feel free to contact me using the comments below, my email on this site or the contact form on CodePlex.com.
Awards
Since July 2008, OnTopReplica has been featured on Softpedia.com and Download.com.