Macao (1987/88)
Director, script: Clemens Klopfenstein.
Collaboration: Wolfram Groddeck, Felix Tissi.
Camera: Clemens Klopfenstein.
Starring: Max Rüdlinger, Christine Lauterburg, Hans-Dieter Jendreyko, Hans Rudolf Twerenbold, Paul Spahn, Greti Isler, Joseph Wäfler, Res Margot, Che Tin Hong, Ieong Sio Heng, Chan Yuen Shi, Chok Ka Cheng, Che Pui San, Wong Pui San, Shirley Wong, Antonio Correira de Lemos, Lo Veng Kin, Niels Vestergard, Hans Vestergard, Yeung Kwai Hei, Stig Jensen.
Production: Ombra-Films, Pandora-Film, with ZDF and SRG.
Runtime: 90 min.
Format: 35mm, color, 1:1.33
DVD Cover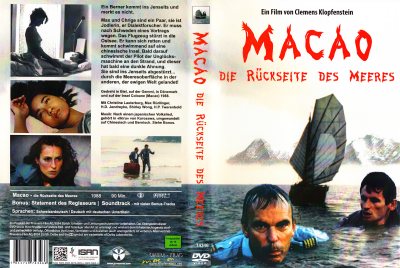 Reviews
Beth Eisen (Maine Film Festival summary):
We are thrilled to bring to North America for the first time in almost two decades a modern masterpiece that went badly underappreciated and underseen when it was initially made in 1988. "After a miniscule release here in the US (including at Railroad Square), the one 35 mm print of Macao returned to its home in the Swiss mountains. I'd like to think the movie's hauntingly beautiful images and song are etched into my memory accurately; and interestingly, this is one of the very questions the film raises: How powerful is memory to shape the present? It also brings up questions, which hopefully we will affirm: If a film (or a person) is separated from those who know and love it, does it continue to exist? Writer/Director Clemens Klopfenstein's beautiful and profound movie MACAO focuses on a married couple, Swiss linguists, who hike the Alps searching for rare words still uttered by rural populations. When on his way to a conference, the husband's plane goes down over the ocean. The wife is advised to give up hope of ever seeing him alive, but her heart tells her otherwise. When he comes ashore on a tropical island-warm blue water, sun on white sands, palm trees-he and the other survivor, the plane's pilot, are greeted by the smiling dark-skinned native speaking the island's language. Back home, she waits to hear word from the search team; on the island, he learns a few words of the native language while he awaits rescue. This is a film of gentle questions to be considered: What is the language of love? In what world does your heart live? What is the mysterious link between language, love, and life itself? MACAO reminds us that we, like a film, are shadows on a screen, briefly flickering, imprinted in the memory of those who loved us".
Maine International Film Festival:
[...] Well, the festival is now over, but not so our audiences' memories of your film. I wish that you could have been here, Clemens. All three screenings were sold out, with people fighting for tickets. And the audiences were entranced with the film -- absolutely delighted. For many many people, it was the highlight of the festival. And so it was for us -- as wonderful as we had remembered it, and more poetic and lovely than ever. There are several hundred people here now who are "Macao" fans. Thank you so much for letting us screen it. [...]
Falling through water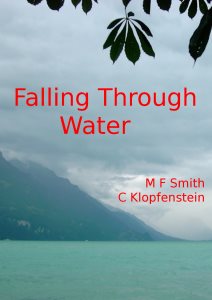 Novelization of the movie, written by M. F. Smith and available for Kindle:
Amazon.de .co.uk .com .fr .it.